The sweet aromas of earthy chestnuts roasted over an open fire; the enchanted sight of freshly cut evergreen trees adorned with shimmering ornaments and twinkling lights; the mellifluous sounds of cheerful music sung a cappella by strolling carollers… Filled with lively exuberance and high-spirited merriment, the Christmas season, a magical and festive time of the year, emanates an atmosphere of love, goodwill, joy, and peace. It is a time to revel in the beauty and spirit of the Yule season but also a time to celebrate life, a time to give and to share, and a time to cherish the gift of family and friends. As encountered in many traditional holiday festivities, food is one of the highlights of this special occasion, and people in many countries around the world would gather together with their family and friends, nearest and dearest, and celebrate with a bountiful feast.
Like numerous households across the globe that prepared a lavish spread of holiday delights for their Christmas dinner tables, my foodie friend and I were also celebrating the special occasion with a food fête. We had the courage and confidence to cook our celebratory meal from scratch using fine, fresh produce—an adventurous and ambitious move—particularly when we had never executed any of the dishes of our planned evening holiday menu before. Following a last-minute excursion to a small, local grocery store after realizing that one of most essential ingredients for one of the delicacies we were intending to make had been overlooked, we started preparing the multi-course repast late mid-afternoon—a task which proved to be lengthy and complex. By 10:15 p.m., we completed our work in the kitchen. Excited to taste our culinary creations, we finally sat down at the table and had the very first morsel of what would unveil to be a sumptuous and scrumptious dinner which warmed our hearts and pleased our palates.
We began our marvelous meal with a warming winter appetizer dish. Made with roasted fresh red bell peppers, the savoury, silky soup was spiced with smoked chipotle and ground cayenne pepper and nuanced with dried basil, fresh cilantro, and blood orange zest. However, the starred feature of this striking starter was the two giant sea scallops set in the middle of the red-orange pool of potage purée. Seared to perfection, the succulent, sweet molluscan shellfish elevated the Italian-influenced luscious dish to sublime heights. The distinct, contrasting flavours of the roasted capsicum purée soup blended intricately well together; with its beautiful balance of subtle spicy, smoky, sweet, tangy, and citrus tones, the robust potage was extremely flavourful and provided a harmonious counterpart to the delicate seafood. To enhance the composition and presentation of the dish, meltingly soft pieces of roasted red sweet pepper along with coarsely shredded coriander leaves and a coriander sprig were added, embellishing the pièce de résistance with splashes of scarlet red and grass green. Accompanied complementarily with a pleasant Shiraz Cabernet Sauvignon wine from South Eastern Australia, a 2008 Hardy's Stamp of Australia, the stunning appetizer was a superb start to our late evening regale.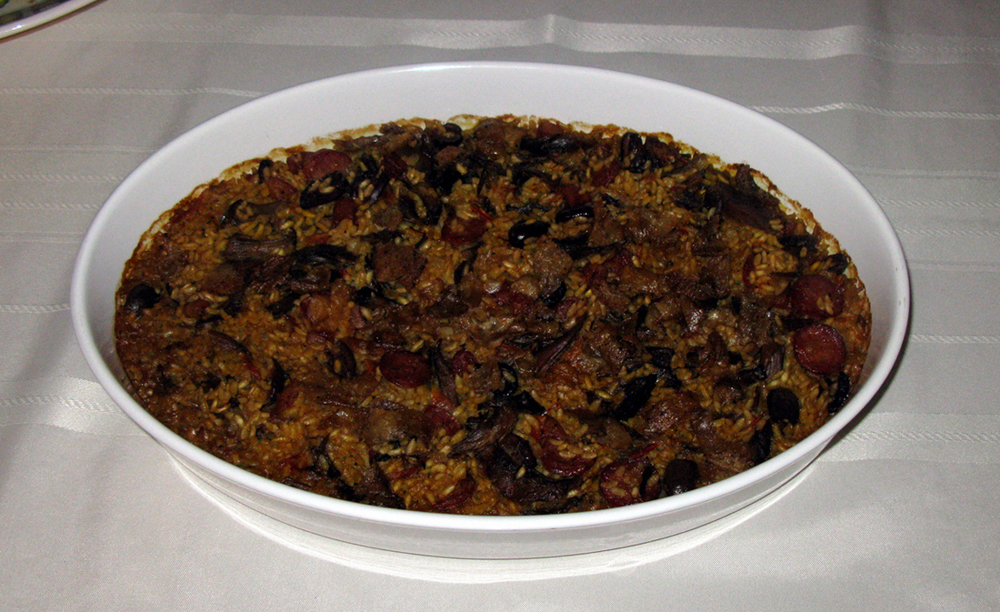 For the principal course, we continued to explore the realm of Mediterranean cuisine. There is a profuse variety of tantalizing dishes that capture and intoxicate our imagination, but we were instantaneously intrigued and captivated by the allure of the newfangled arroz de pato, one of the most popular signature dishes at George Mendes's über-hip and stylish Portuguese-inspired restaurant Aldea in New York City. Compared to this rising star chef's modern and globally inflected reinterpretation of the classic Portuguese peasant dish which his mother used to cook, our adopted and adapted version of the stellar Iberian paella-like variation was less elaborate but, nonetheless, displayed a generosity of delectable tastes and textures which melded gracefully together and which titillated our palate. An enticing, earthy bed of plump Arborio rice enriched with sofrito seasoned with sweet paprika and saffron was studded handsomely with a playful mélange of tender, chewy strips of homemade duck confit meat; firm, thin coins of mildly spicy cured chorizo; large, smooth slices of salty pitted Kalamata olives; and small, supple dices of sweet, port-perfumed dried apricots; the entire rice ensemble finished with a liberal scattering of crispy duck crackling pieces. Rustic yet refined, this utterly delicious chef d'œuvre, which represented another pièce de résistance of the evening, was steamy, soulful, and sensual.
To accompany the dreamy duck rice delicacy in a humble manner, we cooked a simple yet elegant side dish of brussel sprouts, a common traditional staple on the Christmas dinner plate in the United Kingdom. In our Asian-accented rendition, the controversial cruciferous vegetables were sautéed lightly in rendered duck fat. Spruced up with fried garlic bits and bolstered with crushed red pepper, the firm miniature cabbage-like heads, surprisingly sweet and nutty, carried a pronounced garlicky and spicy edge. The flash-fried brassica dish was pleasurably flavoursome and lent a contrasting balance to the hearty entrée.
A festive meal, especially a fabulous one, deserves an exquisite ending. And ours was no exception. Since both of us possess a sweet tooth, we could not resist making a dessert course. We did not bake any sort of classic Yuletide fruitcake, steam or cloth-boil an old-fashioned Christmas pudding, or handcraft a timeless bûche de Noël. Instead, we conjured up another favourite treat of the holiday season, Rumkugeln, the German-Austrian truffle-like confection created originally out of a baker's leftover dessert scraps as a means to curb waste. In our homemade riff of the recipe, which varies from region to region and from family to family, the simple Punschkugel was revamped with a refreshing, decadent twist. Unlike customary rum balls which are dense and dough-like in texture, our bite-sized opulent orbs of dark chocolate and black rum were laden with a chock full of coarsely ground roasted almonds. The glorious trio of rich chocolate indulgences, enrobed in assorted coatings, was each packed with a powerful punch of Puerto Rican rum. Compared to the extremely nutty Teutonic Trüffel dressed up with finely chopped roasted almonds, the fancy bonne bouche enveloped in finely grounded roasted pecans was sweet and buttery, while the seductive mignardise dredged in cocoa powder was deep and mysterious. Paired with a tiny pot of freshly steeped Fujian white tea, and, in the case of my gourmet friend, a substantial cup of freshly brewed black espresso coffee, the sophisticated fancy finger sweets were sinfully divine and culminated the marquee meal in grand style.
Our unique, intimate dinner, which took a detour from conventional holiday fare, turned out to be remarkable, even without the traditional oven-roasted turkey. As a reflection of today's exhilarating food scene where gastronomic traditions are revived, challenged, revised, and assimilated, our luxe comfort food dishes, which were driven by creativity, intuition, and imagination, dazzled and delighted our senses. We were rewarded for our diligent work and sheer patience in the kitchen, and we were proud of our creative culinary accomplishment that night; that alone made our Christmas celebration truly special and memorable.
Now that the holiday season has past and resolutions for the New Year have been established, I embrace the present year with open arms (and soon the Lunar Year of the White Metal Rabbit as the Year of the Golden Tiger draws to a close) as I continue my journey of exploration, knowledge, and appreciation. There are so many things in life that await us to be discovered! And on this enthusiastic note, I would like to wish all of my readers a very happy, healthy, and prosperous 2011, and may the New Year bring sweet tidings to you and all those close to you.
Tags: 2008 Hardy's Stamp of Australia, Aldea, appetizer, arroz de pato, Australia, Austrian, brussel sprouts, bûche de Noël, chef, chocolate, Christmas, Christmas pudding, comfort food, cuisine, culinary, dessert, dish, duck rice, food, foodie, fruitcake, gastronomy, George Mendes, German, Iberian, Italian, New York City, Portuguese, potage, principal dish, Punschkugel, recipe, Restaurant, roasted red pepper soup, rum, rum ball, Rumkugel, seared scallop, Shiraz Cabernet Sauvignon, starter, Trüffel, United Kingdom, wine, winter, Yule season, Yuletide