Welcome to my blog
Welcome to my official blog site.  I am a concert pianist and an ardent lover of the arts. With a spirit of adventure, a zest for life, and an appetite for la dolce vita, I enjoy pursuing la joie de vivre.  As Jacques Torres has said, "Life is short.  Eat dessert first."
Already at a very young age, I was introduced to classical music, ballet, and drawing and showed a natural affinity for the performing and visual arts.  I continue to be strongly drawn to, and passionate about, art and design, whether it be music, dance, theatre, cinema; painting, sculpture, ceramics, photography, calligraphy; architecture, interior décor, furniture, or fashion (e.g., clothing, watches, and jewelry).
In my spare time—when I'm not preparing concert programmes, rehearsing, performing on stage, touring, recording, working on CD projects, and teaching and leading piano master classes, I enjoy exploring the finer things in life.  Curious and hedonistic in nature, I continue to pursue my adventures of discovery, learning, experience, and appreciation, especially in the culinary domain, savouring a multitude of cuisines, foods and wines from different corners of the world.  And very importantly, I enjoy staying in touch, spending time, and sharing some of life's enriching moments, with friends and family.
On this blog site, I have the opportunity to stay connected with you and to share my views, experiences, anecdotes, and thoughts with you, topics ranging from the classical music industry to gastronomy.  And I invite you to submit your thoughts, remarks, and comments.
Thank you for dropping by my blog site, and enjoy your visit.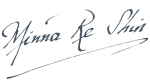 Minna Re Shin